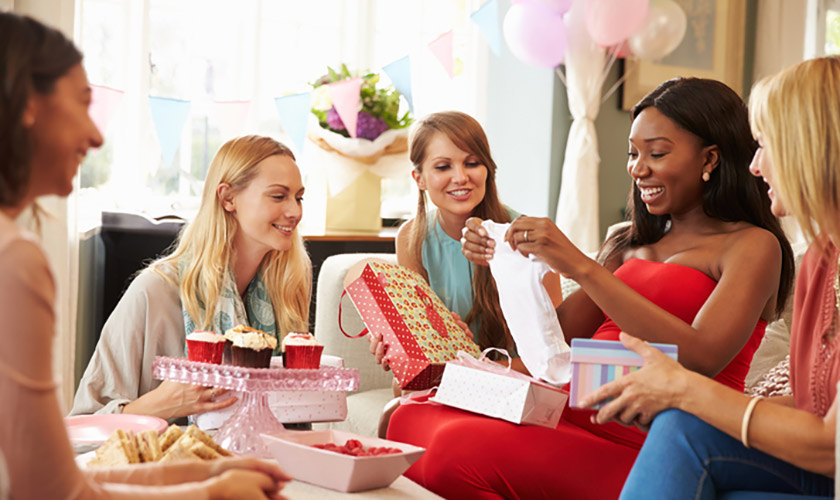 Finding out you or a loved one will welcome a new life into the world is a precious and unique moment in each of our lives. Making the celebration of that moment timeless and memorable compared to the event itself can be challenging.
Thankfully we have some fantastic suggestions that will leave everyone walking away with phenomenal prizes. However, you will also have some ideas that will be affordable and valuable to all involved!
While these are not listed in order from most popular to least or in any order, in particular, no one knows the room quite as you would. So instead, try and pick suitable gifts for whoever may receive them!
Best Baby Shower Game Prizes
1. Hand Lotion
At first glance, this might not appear to be the most attention-grabbing gift. Still, the utility that hand lotion brings to the table is highly welcomed. Hand lotion will always be a solid choice if you have dry skin or stretch marks! 
2. Gift Basket
If committing to a single present is too overwhelming, an assortment of gifts in a tidy box can offer you enough options to rest assured the recipient! These gift baskets contain numerous themes, which we will review below. 
3. Gift Cards
Gift cards always make for a grand prize because they allow the winner to select anything they want from the store they are relevant at. Gift cards also put the responsibility and choice in their hands and enable them to get whatever they choose!
4. Sugar Scrub
Having a child can put some stress on the back burner with all the planning and preparation involved. What better way to loosen those worries than a relaxing sugar scrub treatment? This is good for those who sometimes want to get the dead skin off their hands or feet! 
5. Shower Gel
Occasionally getting a bad rap for being more of a fire and forget kind of cleaning, shower gels can come in some delightful scents and offer skin care options that might surprise you. Overall, it makes a great gift for someone!
6. Lip Balm
Finding time for self-care is getting more complex and more complicated by the minute, and the little things most definitely add up; even if winter is months away or around the corner, having lip balm handy when needed is an excellent choice for those looking for a cheap, but a worthy gift!
7. Nail Polish
Fitting some glitz and glamour into the celebration can be a bottle away if you go with some very select nail polish bottles. This is twice as true if you want to spice things up with colors most people wouldn't usually pick.
8. Bath Salts
Traditionally viewed as a more female guest-oriented gift, bath salts can be enjoyed by anyone. The relaxation granted from having a bath laden with them can have the struggles of the day melt away.
9. Coffee Beans
Few and far between are those that don't enjoy a nice large cup of coffee, and when giving people choice beans, you not only offer it fresh but in a quality that is often unparalleled, assuming they have the time to grind them!
10. Body Wash
A pleasant body wash can reinvigorate and get someone's day starting or ending on the right foot. The body wash also falls into the same category as the shower gel, so that might be a great addition to a gift basket! 
11. Hand Sanitizer
Germs are just one of the many things we have to combat daily. Peace of mind can be just a spritz away with a convenient bottle of hand sanitizer.
12. Nail Clippers
Cheap and inexpensive, these can function as a gift that works great for a male or female recipient and be appreciated for a long time.
13. Nail File
Unlike the clipper counterpart, a file is typically more utilized by women, but anyone can get some use out of a nail file, and if not, it can be traded for something else (depending on the timing chosen!)
14. Succulent Plants
Whether making a room more lively or making the space more livable, these plants can make fantastic gifts, combat colds, and more!
15. Handmade Soaps
Everyone can appreciate a handmade gift, and when it comes to self-care, the love, and care that goes into making one go twice as far.
16. Photo Frames
If a picture is worth a thousand words, the frame holding it should be worth at least half as many, making those timeless memories stand out with a gift from the heart.
17. Body Products
Above all manners of self-care, any of these can be used in most homes and make a great gift.
18. Folded Hand Towel
Whether cleaning up a mess, your act, or simply drying your hands, a hand towel can find us anywhere.
19. Homemade Cookies
While baking might not be everyone's forte, it's the attempt that counts, and if you can follow directions, they'll turn out great!
20. Baby Bottle Winners Trophy
Being labeled the victor means little without a good trophy, and bringing it up later is sure to insight great times.
21. Winner's Crown
A perfect fit for those who not only want to lavish a well-won victory but remind everyone who is placed at the top in style.
22. Pamper Box
A pamper box functions roughly like a gift box. This little beauty's soul's purpose is to provide a handful of self-care products for anyone in need.
23. Coffee Mug
Coffee beans are excellent, but they go even better with a new coffee mug to put your fresh brew in. You can have decorations for anything!
24. Pretty Drink Tumblers
While on glasses and cups, a great tumbler can keep anyone's favorite beverage warm or cool and make for a great gift.
25. Candles
Be it providing light in a time of darkness or alleviating stress with a particular scent, candles are always a solid choice for prizes.
26. Hair Mask
Keeping your hair smooth or robust and luscious is time-consuming; a hair mask can make that job easier!
27. Loofas
A loofah can be an enjoyable massaging tool combined with a suitable shower gel or body wash, perfect for a short getaway in the shower.
28. Bath Bombs
Adding a bath bomb to your bath allows you to go from simply relaxing and cleaning to hydrating and soothing. You can supplement the experience with beautiful colors to let the mind float away. If you want to take the extra mile, you can make your own! 
29. Lipgloss
Lipgloss falls into much the same category as lip balm. Lip gloss will combat dry, cracked lips and keep your smile from fading even when the weather might warrant otherwise.
30. Essential Oils
The best thing about getting essential oils is that they typically come in different scents, having something for just about anyone. On top of that, you are reaping the health benefits as well! 
31. Diffuser
This little beauty goes hand in hand with essential oils. Overall, a diffuser often makes an even better gift when paired together to kill two birds with one stone metaphorically.
32. Face Masks
It's somewhat remarkable just how much comfort you can gain by putting your feet up, wearing a face mask, and indulging in the comforts of a nice bit of time to yourself, a gift worth its weight in gold.
33. Towel Sets
Getting a towel set will take the guesswork out of when someone should replace their towels and maybe invite some change in decoration depending on the person. If the baby shower is during the holidays, you can provide someone with a lovely Christmas or Thanksgiving setup! 
34. Robes
Wrapping up in a robe after a nice shower is an experience not to be taken for granted. Few things compare to lying on your bed comfortably in a nice comfy robe, and getting one as a gift is exquisite.
35. Journals
In today's modern age, taking a moment to yourself to reflect on events that have passed is a somewhat fading pastime. Receiving a retro gift like this might cause a change of perspective for someone!
36. Spa Gift Vouchers
Everyone should aspire to enjoy self-care. However, having someone else do so is even better; thus, this gift will probably score high on anyone's list.
37. Manicure Set
Keeping your feet in pristine condition can sometimes be more complicated than expected without the proper tools. If someone gets a manicure set, then it may brighten their day! 
38. Pedicure Set
In much the same way a manicure set would allow one to relax and work on themselves, a pedicure set does the same, and in that same spirit, getting a group as a prize will fit just as comfortably in someone's home.
39. Headphones
Be it pursuing a moment of solitude to enjoy someone's favorite song or listening to an audiobook, headphones make for a grand unisex prize.
40. A Getaway
Only a complete homebody would regret getting a trip away from things for free. Therefore, it ranks pretty high on the list of baby shower prizes!
41. Event Tickets
Fleeting escapes from the norms of society are hard to come by. Event tickets could be the perfect choice for someone to unplug and get peace of mind in a different setting.
42. Painting Set
The ability to express yourself artistically can be a very liberating experience, making it a great gift choice.
43. Cozy Socks
Regardless of the season, getting a pair of splendid socks will surely put a smile on anyone's face.
44. T-Shirts
Given the event, you might want to keep this one more themed than anything else, but you would know the audience best and, as such, can get something memorable and unique.
45. Jewelry
Expensive gifts are typically more well-received than others but may make people uncomfortable, so be sure to gauge the situation accordingly!
46. Books
Stopping time to expand your mind is something that could fit in most people's lives, and books fill that void perfectly.
47. Hats
Be it silly or stylish, few things beat receiving a hat as a prize, especially if it matches your style.
48. A Monthly Subscription
Catching up with someone's favorite show, magazine, or service can always bring a smile.
49. Home Services
Anything from meal prep to lawn care or even simple things like shopping can be a great gift to make someone's life easier.
50. Throw Blankets
Great for getting the same warmth as a regular blanket and typically can have better styles.
51. Cute Signs
These should be more catered toward where your guests most appreciate them but make for silly gifts that can fit anywhere.
52. Kitchen Utensils
Be it tongs, spatula, or knives, receiving an excess of these will continually improve our lives.
53. Cookie Cutters
Even if someone isn't the most incredible baker around, having something you otherwise may not buy on hand is pleasant.
54. Cooking Set
It doesn't take a decorated chef to appreciate the value of a quality cooking set, especially if old ones need replacing!
55. Small Baking Kits
Great for experimenting or practicing; these make for fantastic gifts.
56. Baking Mixes
A fantastic gift for the same reason as the baking kit, and made as a better gift when paired together.
57. Mitts & Pot Holders
Kitchen safety is nothing to scoff at, and if you can make them adorable or themed, all the more power to you!
58. Gardening Tools
Gifting someone the tools to provide for themselves is a gift beyond measure, and giving someone a new hobby is even more invaluable.
59. Flower Seeds
Cultivating new life while beautifying it with lush vegetation can be just the gift someone needs.
60. Vegetable Seeds
If you wish to put vegetable seeds in a gift basket, gardening tools may be better. However, vegetable seeds can fit perfectly solo, assuming the person is already an accomplished gardener.
61. Coasters
Keeping your home spic and span while making the most of what you have on hand, coasters will keep counters great and gifts cherished.
62. Outdoor Twinkle Lights
These are incredibly wonderful for someone who spends a lot of time outdoors at night; as a gift, they can light up someone's day.
63. Board Games
Bringing out someone's inner competitor while providing a great time sink for parties; is a solid choice for a gift.
64. Small Tool Set
Handy for someone constantly doing projects or simply lacking a set.
65. Thermos
Keeping someone's favorite beverage warm or cool has never been a better gift, and the ability to flex style makes it even better received.
66. Mini Bottles of Champagne
Not everyone wants to participate in fine wine, but mini bottles can provide just enough libation for even the most reserved souls.
67. Bottle of Wine
One of the most common gifts in adult circles is appreciated just as much.
68. Chocolates
It's harder to say no to something so timeless. If you keep them dark to respect diets and the like, they can fit in even better in certain circles.9
69. Cheese Basket
You don't need to be from Wisconsin to appreciate a good cheese basket; it can be shared to spread the love due to its being edible.
70. Fruit Basket
A healthier take on the two food baskets listed above, and just as welcome because of it.
71. Tea Basket
It's hard to match the unparalleled taste of a good tea and more complex to check when you have multiple choices.
72. Baked Good Basket
Sweet treats can come in all shapes and sizes, and with a baked good basket, those assortments can have anyone who receives them grinning (or drooling).
73. Snack Basket
Almost any food basket you receive will be well met, but who can resist the call of the savory snack basket?
74. Local Restaurant Gift Certificates
Finding time to go out to eat might be challenging. However, utilizing a gift certificate might be just enough to rouse some people out!
75. Drink Mixes
Even if alcoholic drinks are outside your scope, making tasty beverages can be in anyone's backyard when they receive a drink mix as a gift!
76. Beer & Glass Sets
Be sure to gauge your audience first, but the good times will keep rolling, assuming they would appreciate something like this.
77. Online Items Shipped Directly to Someone's Home
As time passes, it's harder to find a reason to go out for most things. Save someone you know sometimes by getting them something without them putting in any effort.
78. Online Subscriptions
A subscription to their favorite channel or news outlet can be just a click away.
79. Flower Delivery
Flowers typically perk up just about anyone's mood, even more so when they aren't expected. Having the ability to gift this is simply marvelous.
80. Meal Delivery
Everyone must eat, and more so if it's done on someone else's patronage, a gift sure to warm the heart and fill the stomach.
81. Monthly Delivery Subscriptions
Keeping a routine can be difficult, but it's easier to manage if you expect something monthly.
82. A Recipe Box
Not everyone is blessed with photographic memory or innate flavor knowledge. As such, following a recipe via book can be a great gift.
83. Baby-Themed Lollipops
Setting the mood with something sweet can always be a well-timed treat.
84. Mini Cupcake Bouquet
A baker's dozen is the only thing better than one cupcake. With a cupcake bouquet, any sweet tooth will be taken care of.
85. Velvet Hair Scrunchies
While this prize might not be the most appreciated amongst male recipients, it makes an excellent gift for almost anyone.
86. Homemade Pashmina
Nothing compares to the look and feel of a well-done pashmina. Getting one as a prize will feel just as rewarding.
87. Brownies in a Mason Jar
Getting brownies in almost any regard makes for a grand prize. The usefulness of getting them in a mason jar makes them more delightful.
88. Lottery Tickets
Teetering into a cheaper and often easier gift to handle, lottery tickets may change someone's life.
89. Cook Books
Regardless if it serves as an inspiration or a true-to-home guide, getting a cookbook as a prize is sure to spice things up.
90. Cake Mixture
It pairs up nicely with other cooking or baking gifts but can find itself hard to rise if given alone.
91. Aloe Vera
Combating dry skin and stomach pains for countless years, aloe vera will be a prize that continues to be timeless.
92. Sunscreen
The perfect choice for more hot environments, and if you happen to live in Florida, you might just be saving someone's life.
93. Shampoo & Conditioner
Self-care is a must, and getting a quality combo of shampoo and conditioner can make for a special prize.
94. Smores Gift Basket
Nothing compares to getting chocolate as a prize unless you can be taken to a cozy campfire with a smores gift instead.
95. Movie Night Gift Basket
Kicking your feet up and watching movies is a fantastic pastime. Doing so on someone else's dime feels even better.
96. Cookie Mixture in a Mason Jar
If you thought getting brownies in a mason jar was good. Gaining the ability to make your favorite kind of cookie will be even better.
97. Winter Gloves
Most prizes have a permanent meaning, but wearing winter gloves will warm your heart and hands.
98. Treats in a Glass
Uplifting spirits and sugar levels simultaneously, making a special prize of treats is sure to win you some favors.
99. Luxury Bath Treatment Basket
Self-care at its finest when paired with the best the world has to offer, all at a touch of your fingertips. Who wouldn't want to sink into a bubbly blanket of relaxation?
100. Coffee to Go Gift Basket
Coffee beans are a swell prize, but not everyone has the spare time to make that a reality; for our more time-challenged friends, the coffee-to-go gift basket is the surefire, one-and-done prize to beat!
How Many Baby Shower Prizes Should You Have?
At the very minimum, it's best to have two prizes so that you can have a prize for the winner of the game and the runner-up or an award for two different games. On the other hand, if you are hosting the games yourself, it's better to have several games lined up for your guests to play.
Conclusion
There isn't going to be a special prize that you can get that will make everyone happy regardless of their stance in life. Still, you can do your best to have enough variety and flexibility so that everyone can have a chance to appreciate what they get.
They didn't pay for their gifts, so there is the concept of simply being appreciative about getting anything to keep in mind. Announcing the winners can exchange prizes freely will also go a long way in keeping everyone happy.