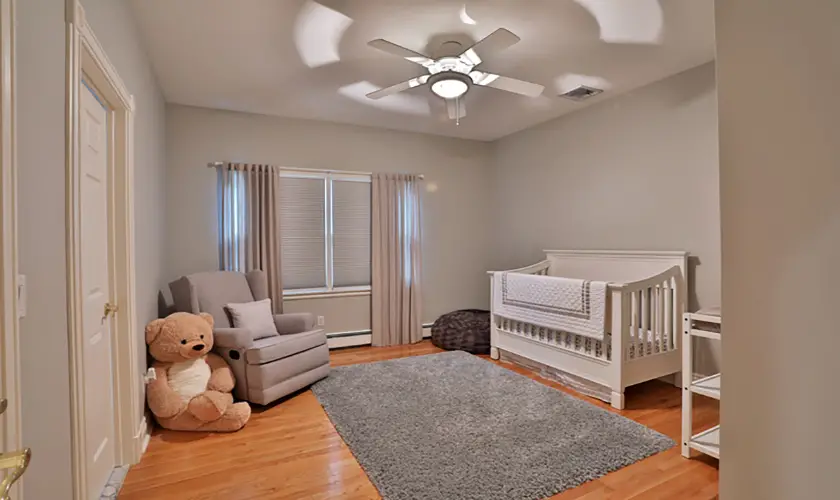 Let's talk nursery room ceiling fans. Making the most appealing, comforting, and safe nursery possible can cause more headaches than worrying about what your little one can potentially get into, especially when you take functionality into the equation.
Keeping your little one out of harm's way and maintaining a consistent temperature to ensure your baby is happy and healthy can be a chore, but this article will give you plenty of options on which fan will be the best fit for your baby's room.
So, what are the best nursery ceiling fans for your baby?
Hunter Fan Company 51315 Aerodyne ceiling fan
Hunter Fan Dempsey low Profile indoor ceiling fan
NUTCRUST retractable crystal ceiling fan
Ceviept enclosed ceiling fan with light
CJOY Ceiling small modern ceiling fan
Each of the baby room ceiling fans we will be reviewing will have a place in most homes, but some may not fit the bill entirely for you, and that is perfectly okay. 
Anything from some white noise to aiding your little one in drifting off to some much-needed sleep to cooling down their room without waiting a long time will be considered!
What Precautions Should You Take Beforehand?
There are not a lot of precautions that you genuinely need to take into consideration about installing the fan itself unless you, for some reason, intended on doing it with the child in the room, which is unwise, to begin with.
Some might argue that small rooms with low ceilings can provide another vector of harm to your child. 
However, this is not the case, as there is almost no situation possible where your child can come into contact with the ceiling fan itself. 
If you have a bunk bed and one of your children decides they want to test their limits, then take the necessary precautions to prevent this from becoming an issue. 
On the other hand, this is not something most people will need to worry about most of the time.
It would be best if you were wary of the possibility of getting a stuffy room or having poor air circulation. 
Depending on how you want to view it, cool air and constantly removing carbon dioxide from the babies sleeping quarters will actively help your baby sleep safe and combat SIDS.
How Ceiling Fans Can Provide Peace of Mind
As a parent, everything can be a potential safety hazard, but the nursery fan is quite the opposite in this situation. 
Lowers the Risk of SIDS
Aside from cooling your baby down, according to the nationwide children's organization, running a fan in a sleeping child's room lowered the risk for sudden infant death syndrome (SIDS) by up to 72%.
According to the American Academy of Pediatrics (AAP), "there is currently insufficient evidence to recommend the use of a fan as a SIDS-reduction strategy."
However, according to the report, excessive heat can cause SIDS, but that specific room temperatures are hard to quantify.
The report states that "Although studies have shown an increased risk of SIDS with overheating, the definition of overheating in these studies varies. Therefore, it is difficult to provide specific room temperature guidelines to avoid overheating."
Keeping the room temperature between 68 and 72 degrees Fahrenheit, as well as running a ceiling fan that keeps air circulating, are two additional things that a parent can do to cool rooms and potentially avoid SIDS. Breastfeeding and maintaining a tobacco-free atmosphere were also found to substantially reduce the risk factor of SIDS, according to the AAP report.
Having a fan on low speed to circulate room air, can reduce heat and keep room temperatures more uniform.
Dimming the Lights
Safety issues aside, another thing you might want to bear in mind comes in the form of being able to dim the lights in your baby's nursery. 
This process can be tricky unless the fan itself is installed right, and you may want to seek the aid of a professional to ensure the installation gets done correctly.
You can add a dimmable light kit, but if you are not comfortable doing the job yourself or want the assurance that everything in your children's room gets done in the safest way possible, you would be wise to seek out a professional.
What to Look for in a Nursery Fan
When you are shopping for a nursery fan, find out which one will fit your home by going over what your priorities are for the fan, as well as how well it can fit your needs and match your home's general aesthetic, or at the very least, the one you are going for in the room itself.
There are three primary things to consider to get the perfect fan for your little one and rest well knowing you have picked a great option that takes the overall cost of the fan itself and its functionality into the equation. 
These reasonings are size, aesthetics, and accessories. Let us go down more below what we mean in detail. 
Size
As the saying goes, bigger is always better, but sometimes, less is more. While you may lean to either side of this proverbial fence, there is a way to take the guesswork out of the situation and go for something more tangible, and to that end, we will go with math.
While unexpected, there is indeed a mathematical way to pick a fan that best suit's your needs, and that fan needs to circulate the airflow of the room a certain number of times. 
To figure out how many times this can occur, you will need the cubic feet measurement of the room. Here is a step-by-step process below:
Step 1: Essentially, you want to take the dimensions of your room, which would be the length, width, and height, and multiply them together. 
Step 2: Afterward, divide that number by how many minutes you would like it to take to circulate the entire room's air.
Step 3: This total will give you the minimum CFM (cubic feet per minute) required to circulate the air thoroughly. 
It allows you to keep the air nice and fresh, so if we did 10x10x10 and divided that by 20 minutes, you would need a fan that could hit a minimum of 55 CFM to cycle the air in that time.
Aesthetic
Suppose you want a modern design for your nursery or something that matches that indigo blue you've got delicately complementing the room. 
In that case, there are many options available that will fit almost any unique decor you have in mind.
Finding the best design for you and your little one will require planning, taking your views on the room consideration and your significant other's (unless it's your way or the highway!)
Every room in your home can come off with its specific look. You can achieve a certain level of beauty when you allow each room to play off the other's color palettes and make your entire home look that much better.
Accessories
Believe it or not, fans can come with accessories, especially in today's extremely technological age. Everything ranging from built-in Wi-Fi to control the fan speed to having a specialized led light kit, fans today are a marvel.
Typically these accessories are listed alongside the fans as perks that come with them. 
Still, the individual kits that customize the fans can go separately, so if there are specific features you want to have included, you may want to shop even more diligently to guarantee your needs get met.
Are Fans Good to Have in a Nursery?
We briefly touched base on this earlier in the article. Still, fans are good to have in the nursery, not only for their comfort but also for their innate ability to counter SIDS actively.
Keeps the Airflow Going
Fans circulate the air of the room, as you surely know. Still, this air circulation keeps carbon monoxide levels from getting too high and, as a result, aids in the fight to prevent your little one from having anything unfortunate befall them.
Your Baby Remains Comfortable & Relaxed
Moving towards the more lighthearted aspects of the fan, it keeps your baby comfortable and relaxed and is a must-have if you live in hotter, more arid climates.
It's worth noting that your baby should never be directly under the fan itself, as this may dry your baby's skin out and necessitate you to take even more precautions to keep your little one's skin moisturized.
What Are the Best Ceiling Fans for the Nursery?
It is tough to figure out a pound-for-pound (or dollar-for-dollar in this case) winner as the best fan you can have in your nursery. 
However, we will be using efficiency, cost, performance, and noise levels to provide you with a ceiling fan that meets all of your needs.
1. Hunter Fan Company 51315 Aerodyne Ceiling Fan
Hunter fans make some of the best ceiling fans on the market today. The first fan on the list will be the Hunter 51315, and this fan brings quite a few things to the table, but the first one of note is the price. 
This beauty is only $146.54 as this article is written and has a modern silver design with a built-in light that can illuminate even the darkest rooms. 
It also has Wi-Fi capabilities to control the fan's speed but has custom dimming options that allow you to set the mood for naptime easily. 
Plus, you'll be happy to know it also comes with an LED integrated light kit, which saves you both energy and time in the long run. 
2. Hunter Fan Dempsey Low Profile Indoor Ceiling Fan
Next on the list, we have yet another Hunter fan that comes at an even lower price, and the only thing you are genuinely sacrificing for the price difference is the Wi-Fi capabilities. However, this loss isn't too unbearable as the fan itself still comes with a universal handheld remote, serving almost the same function.
The fan comes in at $128.99 and comes in a matte white finish, with blades that you can exchange for a more rustic wood finish that allows for some flexibility design-wise. 
Having the ability to change the ceiling fan blades themselves is somewhat unique but not entirely unheard of, but the Dempsey does have an ace up its sleeve, which comes in the form of a Lifetime warranty, which is rare for this price range.
3. NUTCRUST Retractable Crystal Ceiling Fan
Entering the arena next is NUTCRUST retractable crystal fan, which is truly a juggernaut in aesthetics, function, and power. 
Although the design itself may be a bit too opulent for some people, this great fan has built-in Bluetooth speakers and an adjustable light coloring feature that can allow you to set the mood in any way you like.
Because it has a built-in Bluetooth speaker, you gently play some music or have white noise of your choosing to get your baby into the right mood for a good rest. 
The fan itself has a chandelier design, so it will certainly be eye-catching for you and your baby.
These perks come nestled atop the fan's ability to run almost silently, giving you an exceptional experience from a fan that only costs $198.64. 
The fan also has three styles to choose from with colors matching rose gold, chrome, and silver, which change how the fan looks pretty substantially. 
4. Ceviept Enclosed Ceiling Fan with Light
The unique design of the enclosed ceiling fan by Ceviept comes with a very stylish silver border, and dimmable LED light on the faceplate that gives a calmer, more streamlined appearance to your child's room without losing any of the functionality or cooling power the other fans listed so far.
Another feather in this fan's cap comes in the form of its reversible motor. 
It is also tranquil for the speeds it boasts, the fan itself is relatively easy to install and features a remote that will allow you to control the lights, speed, and direction of the fan at the press of a button.
The Soviet sets itself apart with two modes to fit the seasons. It has a "summer mode" that will keep things pleasant during the warmer months, spinning counterclockwise, and a "winter" mode that runs the fans clockwise. 
Doing so takes the warmer air that often collects near the ceiling and redistributes it to the benefit of your baby and you while you are there.
5. CJOY Ceiling Small Modern Ceiling Fan
Ending things with a bang, the CJOY ceiling fan takes center stage, costing only $128.99, featuring practically everything you would expect from a typical ceiling fan, minus the deluxe Wi-Fi treatment. 
It's hard to say you would be unimpressed by this miraculous fan.
First off, it has the same reversible quality the Ceviept had, but this is returning to the regular fan design base. This fan has a nice remote to control all three adjustable speed levels and control its light.
The CJOY also comes with a 2-year factory warranty for everything the fan details, and it should fit most typical room decor as it comes in a clean matte white finish, with short sleek design blades providing the air circulation you seek.
You may want to consider the CJOY because it is intended for smaller rooms. So, if your nursery is more significant than a 9×9 or so, you may want to go with something a bit bigger.
Final Thoughts
Selecting a ceiling fan that accommodates your baby's expectations and provides a reliable comfort level can be a massive job. 
If a ceiling fan isn't for you, try a portable air conditioner or a smaller fan such as a table fan, oscillating fan, or tower fan.
Still, with any luck, this article has given you the information required to make a decision you can be confident is the right one!