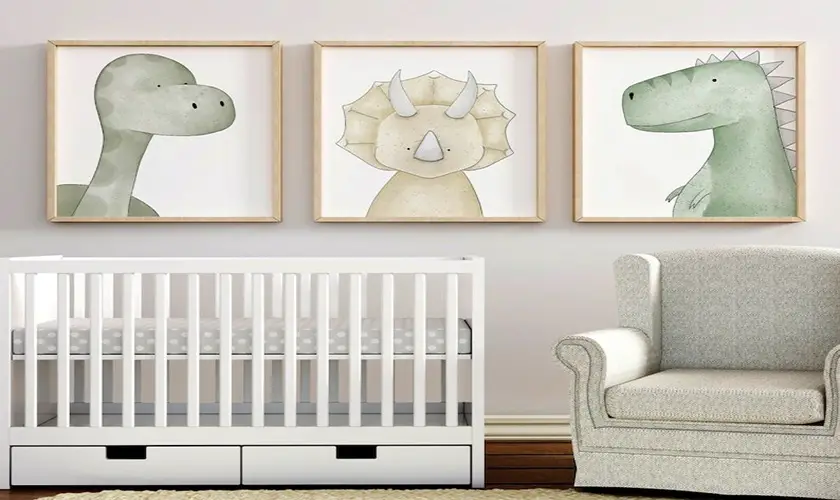 Picking out the perfect nursery for your little one can sometimes lead you to some slim pickings for ideas or creativity. 
A dinosaur nursery theme is a perfect fit for a baby boy (or girl). Still, if you at the very least know that it has to incorporate dinosaurs, here are 25 dinosaur theme nursery designs and ideas that might meet your needs!
1. Different Dinosaur Shades
The first theme we have comes in a very warm colored backdrop, featuring our favorite dinos in red, yellow, and orange. 
The aerial dinos match the backdrop of mountains and arrive in contrast with the sky scenery.
The chair and crib's matching colors will also bring a certain level of stability and comfort to the room, while the wall decal and floor decor items will let the imagination run wild with possibility.
2. Dinosaur Lamp
Lamps usually lack creative flair and do not have much to offer in the form of creativity, but this piece, in particular, shows that a bit of paint and elbow grease can have some pretty astonishing results. 
The design is meant to give off a fossil-type vibe, but you can apply the same kind of creative flair to anything from lamps to cups for holding markers and pens!
3. Dinosaur-shaped Dresser Knobs
In the eyes of a child, everything is a toy, and the knobs to a dresser door are no exception. These adorable little handles will capture your heart and your little one's interest! 
Sometimes you will have a hard time fitting a themed nursery into all aspects of a room's design, but this level of creativity exemplifies how you can do it.
4. DIY Dinosaur Wall Hooks
We have a great way to make the mundane more lively with these extremely playful, vibrant dinosaur-themed wall hooks. 
Getting your baby's room organized can be a task and a half, and doing so cosmetically might even seem impossible, but ideas like this keep the dream alive!
Another spin you can add to this would be having different sizes of dinos to make the piece come to life and have a bit of fun explaining which dinosaurs are bigger and why.
5. Dinasaur Baby Mobile
Whether it be laying down for a nap or just waking up from one, this dinosaur mobile is sure to be just the personalized touch to your baby's room, and with all of those little clouds, mountains, and plants, the crib might just become your baby's favorite place, because I know my bed is mine!
6. Cute Nursery Prints
Dinosaur nursery decor and wall art are hard to delve into, especially finding a print that can make a room welcoming and not become an eyesore over time can prove incredibly challenging. Still, you might find something special to compliment your baby's room with these little prints.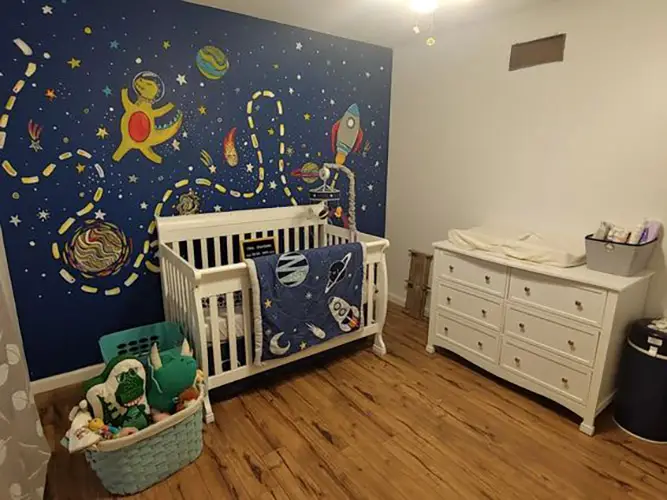 7. Dinosaurs in Space
At first glance, you might see a standard crib and a few t. rex stuffies nestled in their basket, but the biggest takeaway here would be the unique "Dinosaur in space" theme behind it all. 
It's hard not to see it as the perfect inspirational wall decor when combining two very different ideas like dinosaurs and the infinite wonders of space.
8. Custom Dinosaur Names & Letters
Teaching your little one their name is a unique experience, and fitting your baby's name into the room design is just one of many steps to making it theirs and thematic. These dino-themed letters accomplish both!
9. Wall Dinosaur Print
Some people might argue that dinosaurs may be more of a boy theme. Still, I stand to disagree and move that with the proper soft color pallet, the same piece can work and not be viewed as simply for little boys, but open the eyes and imagination of your little prehistoric princess!
10. Dinosaur Tracks Field Guide
Finding out what makes us unique is all a part of growing up, and with this beautiful little wall decor, you can easily explain what makes each dinosaur different, starting from the ground (or feet) up. Fun factoid pieces like this are perfect to feed a budding dinosaur obsession.
11. Dinosaur Round Name Signs
These cute signs will allow you to teach your child their name in style and add an extra layer of dinosaurs to the room simultaneously.
12. Dinosaur Themed Foam Rug & Wall Decor
Detail is always something to strive for, and this dinosaur rug is just what your little one needs! It is both soft and comfortable for your baby as they grow into crawling and eventually walking. 
The wall decor also brings the room's color pallet full circle, but the unity achieved with the dinosaur bins and matching floor mat makes this nursery special.
13. Dinosaur Wall Stickers
Detail is always something to strive for, and these wall stickers do just that by showing the excellent bone structure and immersion in the theme.
14. Dinosaur-themed Crate to Hold Objects
Here, we have a cute little dino-themed crate to hold various odds and ends and could easily have a sticker or figure next to it to further the theme!
15. Dinosaur Curtain Tie
Everyone loves a cute plushy, and with this adorable design, you can hold your curtains back and not break the dinosaur theme of your nursery.
16. Add a Tent to the Mix
Unique decor with dino highlights all around and a little tent with a bed inside, fitted with a dino pillow; this room has a lot of motivation to draw on!
17. Beautiful Bedspread (or Mattress Sheet)
While this room has a lot going for it, I believe the dinosaur bedding is the most beautiful part of the whole thing, and the painting above is the icing on the cake.
Of course, in a nursery, you are more than likely dealing with a crib, so get this soft fitted crib sheet that is good for girls and boys. Plus, it contains some other options for you to choose from. 
18. Modern Shelving to Showcase Dinosaurs
Here we have a perfect example of how to showcase dinosaurs but keep it to a more modern and sophisticated approach, with less of the cartoonish flair most decor utilizes.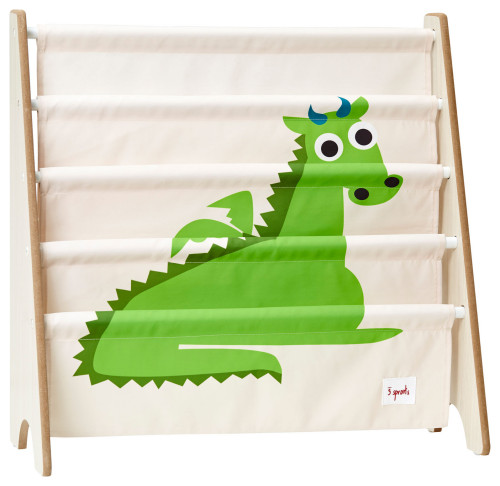 19. Book Rack
A thirst for knowledge is hard to appease, even more so when you want to have dinosaur themes around it, but this book rack manages to accomplish all that!
20. Dinosaur LED Light
With this phenomenal little dinosaur LED light, your little one can conquer the night in style and give your baby bright thoughts as they drift to sleep.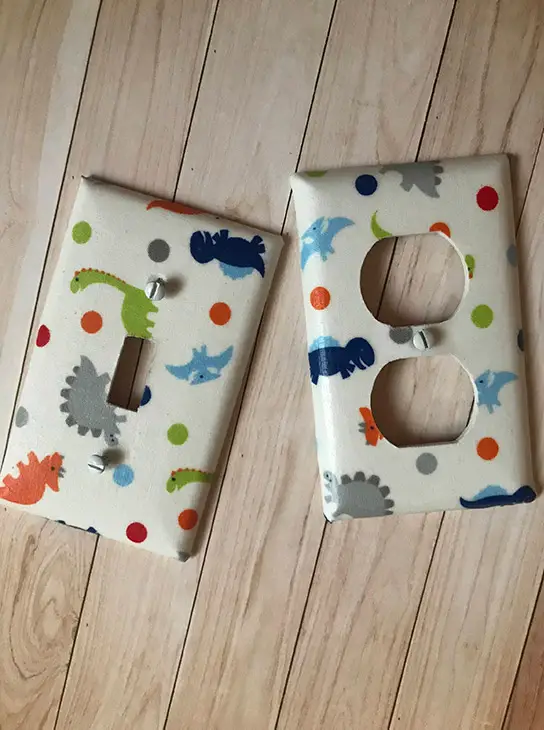 21. Dinosaur Light Switch Cover
If you are creative enough, you can fit dinosaurs anywhere, and these switch and outlet covers prove you never have to lift the veil if you don't want to!
22. Nursery Lamp
Having a gently colored blue and gray lamp is perfect for a nursery that has a more relaxed and balanced design.
23. Name Decorations
Fitting your child's name into decorations can prove challenging, but these personalized room signs make it a breeze to display their name and keep the theme!
Not only that, but it has a double meaning as you can use this for their first birthday!
24. Ottoman Dinosaur Baby Chair
Looking at this initially, you'd think that a unicorn isn't a dinosaur, and while true, the inspiration lies within the chair, finding a dinosaur-themed plush chair could be just the change-up you need!
25. Shelf Shaped as a Dinosaur
Shelves are essential, especially when you need to display your child's impressive dinosaur toy collection, and nothing keeps the fantasy going like a shelf shaped like one. A shelf like this allows you to display small dinosaur toys.
26. Jurassic Park Personal Sign
Turn your baby nurse into a Jurassic experience with this personalized sign that is perfect for placing on a bedroom door or over a changing table or crib.
27. Dinosaur Wall Stickers
Fun dinosaur wall stickers can be used to create a room for your baby boy that will keep them interested throughout their toddler years. Wall stickers can create an accent wall like the one above or to your own desires. Don't like the location, just remove and reposition as needed.
28. Diplodocus Dinosaur Table Lamp
This cute dinosaur table lamp has a soft green ambient glow. It's perfect to place on a bookshelf or crib side table.
29. Dinasour Modern Led Ceiling Light
This cartoon dinosaur ceiling mount LED light is perfect for that older boy's room as he graduates from a baby nursery to a toddler's room. Keep the Jurassic adventure going with this overhead LED bedroom light.
Conclusion
Hopefully, these baby's dinosaur nursery ideas have gotten your creative juices flowing and you now have an ample amount of inspiration on how to design the nursery of your child's dreams!