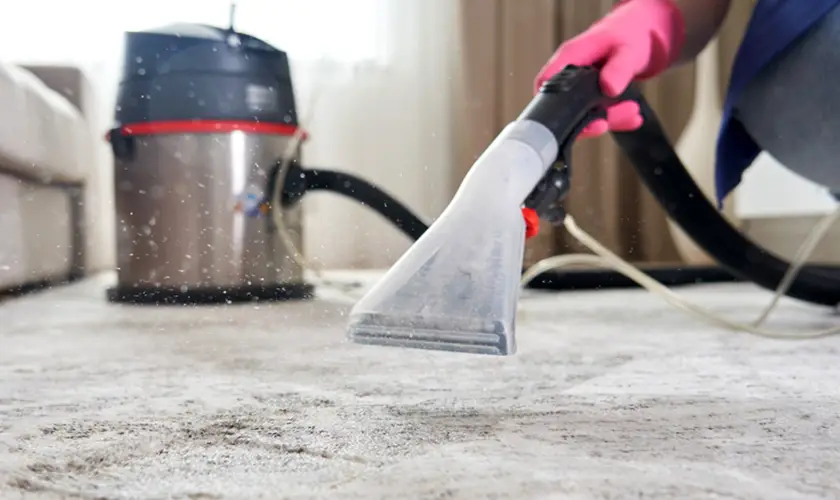 Carpet stains are a massive headache to get rid of, especially if you have little kids who wound up spilling their juice on your living room carpet. 
In some cases, you moved into the house with dirty carpets and want to find homemade carpet cleaning solutions. In this case, stubborn stains will refuse to get off no matter how hard you try.
Overall, you want to ensure you are doing the best possible to avoid it. However, it can be a daunting task.
Seeing as how that is the case, what are the best homemade carpet solutions to guarantee the best results possible?
Baking soda & vinegar solution
Use vinegar for a steam cleaner
Solution for dark carpets
Solution for light carpets
Homemade carpet cleaning spray recipe
Homemade citrus-enzyme cleaner
Hydrogen peroxide, baking soda & soap
In this article, we will go over the ingredients of each solution mentioned above. We will also discuss keeping your carpet clean and some frequently asked questions. Continue reading for more! 
What to Know Beforehand
Before getting into the details of this article, you should know that if you are unsure a homemade solution would work, spot test the area first. We would hate for you to go through all that trouble for it not to work! 
What is the Best Homemade Carpet Cleaning Solution?
Here are the best homemade carpet cleaning solutions! We are confident you will find the one you need right here in this article.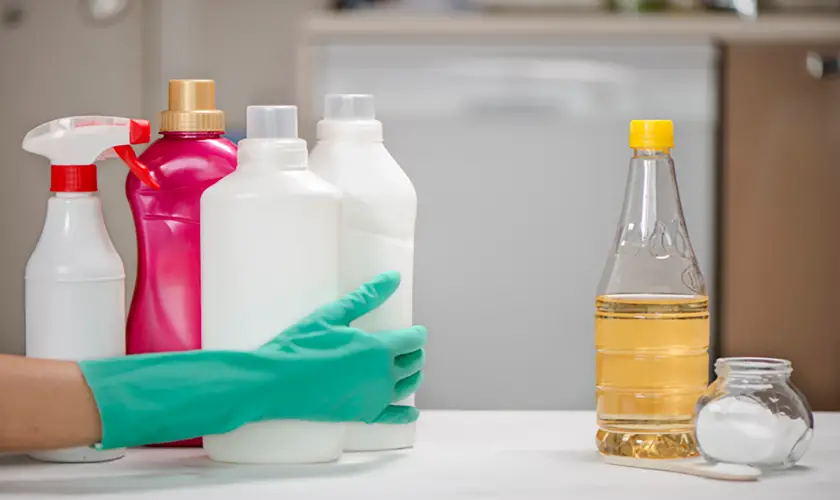 1. Baking Soda & Vinegar Solution
As we come to our most basic solution, we have baking soda and white vinegar. In most cases, this homemade carpet stain remover does a great job with whatever job you need to be done, such as pet odors and blood stains.
The baking soda and vinegar solution are natural ingredients and create a chemical reaction by foaming up due to the baking soda's alkaline and the vinegar's acetic acid. Because of this reaction, the foam helps lift stains out of the carpet mess. 
How to Use This DIY Solution
Step 1: Sprinkle the baking soda on the carpet stain and thoroughly cover it up.
Step 2: Pour enough vinegar on the baking soda to cause it to fizz (you can even use a spray bottle for this part.)
Step 3: Massage the solution into the carpet with something like a hard-bristle brush or clean rag.
Step 4: Leave the mixture there for 4 to 6 hours or until the spot is dried.
Step 5: Vacuum the rest of the baking soda. 
2. Use Vinegar for a Steam Cleaner
Most professional carpet cleaning services use mild but harsh chemicals on your carpet to ensure it looks lovely for your viewing pleasure. 
You can easily use vinegar inside your steam cleaner for those who steam clean on a regular basis. 
However, knowing what ratio to put your solution at is essential due to having synthetic carpets or natural carpet fibers, as natural carpet is more delicate.
Natural Carpet Fibers Vinegar Ratio
If your carpet has wool or other natural fibers, you will want to use a 1:1 ratio of vinegar and water. 
You will know if your carpet contains natural elements if the rug is soft on both sides.
Synthetic Carpet Vinegar Ratio
You will want to use one part vinegar to two parts water for the synthetic carpet. 
Synthetic carpets are mostly hard underneath instead of soft. 
3. Solution for Dark Carpets
Although baking soda and vinegar is a great recipe for your carpet, they might not be the best choice for dark carpets. In that case, you will want to use vinegar and liquid Dawn dish soap. 
If you have any tough stains, this solution will break grease down without leaving any residue. 
How to Use This DIY Solution
Step 1: Mix 1 teaspoon of Dawn dish soap with 1 cup of vinegar in a spray bottle.
Step 2: Spray the solution on the type of stain, ensuring you cover the entire area.
Step 3: Leave it on for 15 minutes.
Step 4: Afterward, scrub the DIY recipe with a hard-bristle brush, which should clear the stain. 
4. Solution for Light Carpets
Since we went over dark carpets, it would only make sense to go over a solution specifically made for light rugs! 
The good news is that hydrogen peroxide does a great job of removing stains from your carpet, and it does not cost a ton of money.
It is a simple recipe to make and only requires the following:
1 tablespoon of Dawn dish soap
4 tablespoons of 3% hydrogen peroxide solution
1 1/2 quarts of hot water
5 drops of essential oils 
How to Use This DIY Solution
Step 1: For fresh stains, use a white cloth or paper towel and blot the affected area. Ensure to get as much liquid as possible but do not rub it in, as the dye will worsen this way. 
Step 2: Mix the soap and hydrogen peroxide solution, then set aside.
Step 3: Sprinkle baking soda on the stain as it deodorizes the entire area, and let it sit for 10 minutes before vacuuming up any excess soda.
Step 4: Pour the mixture onto the stain and sit for a few minutes before blotting it.
Step 5: Repeat this process until the stain is no longer there.
5. Homemade Carpet Cleaning Spray Recipe
This one is for you for those who like spray bottle homemade cleaners! Not only can you use it on your carpet, but in other areas within your home. Here is the homemade carpet cleaner solution below:
1 cup of white vinegar
2 cups of warm water
2 teaspoons of table salt
15 drops of your favorite essential oil
How to Use This DIY Solution
Step 1: First, add the warm water and vinegar to a spray bottle. Afterward, add the salt and essential oil and thoroughly shake it up. 
Step 2: Spray the solution onto the carpet and allow the rug to dry, so it has time to work.
Step 3: Vacuum the carpet to remove the cleaning solution.
Step 4: Repeat if necessary and make sure to continue shaking the bottle to ensure the solution is thoroughly mixed.
6. Homemade Citrus-Enzyme Cleaner
Enzyme cleaners are excellent solutions when it comes to getting your carpet clean. They help break down old stains like pet accidents, ink stains, red wine, old colors, etc. You will find enzyme solutions in many cleaning products. 
Although this particular solution takes a bit of time to make, it is worth it in the long run! 
Here is all you need to create your own homemade cleaning solution:
7 tablespoons brown sugar
1 1/2 cups lemon and orange peels
1-quart of water
A large bottle or clear container to hold the liquid and peel
How to Use This DIY Solution
Step 1: Place the lemon and orange peels into the container (preferably glass), then add the brown sugar. 
Step 2: Afterward, pour the water into the container, then tightly screw the cap back on.
Step 3: Thoroughly shake the container to mix the ingredients. Then, loosen the cap, ensuring it is halfway on to allow the gasses that build up in the container to be released, so the bottle does not break. 
Step 4: Leave the mixture sitting for three months.
Step 5: After three months, pour the liquid into a spray bottle. 
Step 6: Spray the contents directly onto the stain and gently pat the area with a clean and dry cloth. 
Step 7: Allow the area to air dry before vacuuming the excess residue.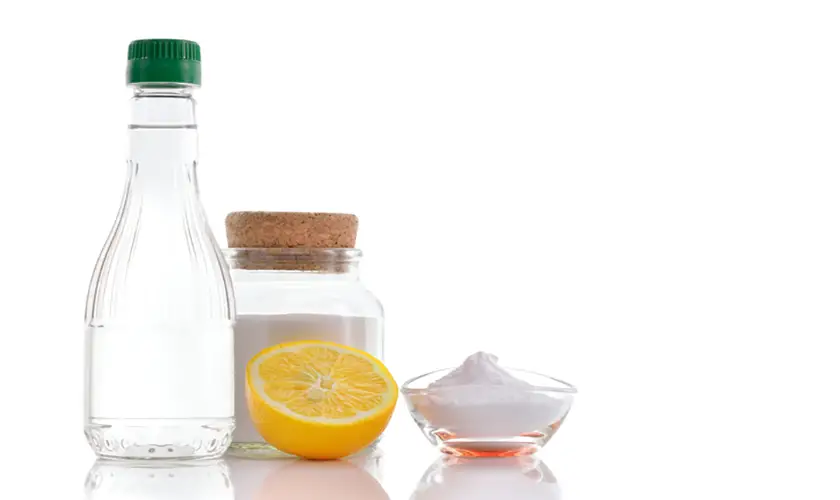 7. Hydrogen Peroxide, Baking Soda & Soap
The next of our homemade carpet cleaner recipes is a mixture of hydrogen peroxide, baking soda, and liquid dish soap. To go more into specifics, here are the specifics of what you will need for your DIY carpet cleaners:
1 cup baking soda
1/2 cup hydrogen peroxide
1 teaspoon liquid dish soap
How to Use This DIY Solution
Step 1: For recently made stains, use paper towels or a clean cloth to soap up any liquid from the carpet. 
Step 2: Afterward, sprinkle the baking soda over the stain. Then, mix the hydrogen peroxide and dish soap into a small bowl.
Step 3: Once the homemade carpet shampoo is made, pour the liquid over the baking soda and onto the stain slowly, then let it sit for 10 to 15 minutes.
Step 4: Thoroughly vacuum the area and repeat the process for tough stains. 
Note: Another alternative is to use food-grade diatomaceous earth to rub into the carpet. After a few hours, the stain will go away. However, you might need to apply for several applications.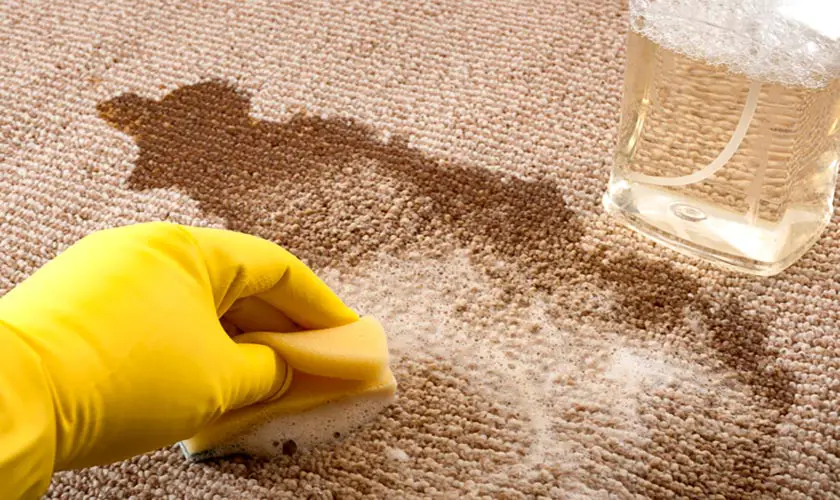 Tips for Keeping Your Carpet Clean Longer
One of the main issues you might have is keeping your carpet clean and mess-free. 
Although it might be pretty impossible to ensure crumbs do not enter the floor if you have children, you can still take precautionary measures to ensure the longevity of your carpet. 
Here, we have some extra tips and tricks for keeping your carpet clean longer.
1. Use Outdoor & Indoor Mats 
It is a good idea to put mats outside and directly inside your home to ensure you or your children do not track in mud. 
In some cases, you can use the laundry room as a mudroom for you and your family to enter through. 
2. Remove Shoes Once Entering Your Home
You will want to think twice the next time you wear shoes inside your house. According to the University of Arizona, your shoe carries an average of 421,000 units of bacteria and 2,887 units inside. Are you disgusted yet?
In that case, it is best to remove your shoes upon entering your home. Not only are you keeping your carpet clean from dirt, mud, and whatever else, but you are ensuring more cleanliness within your home. 
3. Vacuum Multiple Times a Week
Although vacuuming your home does not remove stains, it is a good idea so you can prevent things from remaining on your carpet that could wind up as a pigment. 
4. Immediately Treat the Stains
Sometimes it is hard to know you have a stain, especially if something spills in places you do not know of. 
However, once you see the color, take action immediately to ensure further destruction on your carpet. You may need to do the process more than once, so keep that in mind. 
5. Brush & Bathe Your Pets Frequently
Do you have a dog that loves to get in the mud or play outside multiple times a week? In that case, make sure to brush and bathe them regularly. 
If you notice they have muddy pawprints, take them outside or in the bathroom and wash them off immediately. The last thing you want to see on your carpet is a million pawprints that cannot be brought up!
Frequently Asked Questions
There are some questions that many home makers have, so let us go through some of them down below.
Can You Use Laundry Detergent in a Rug Doctor?
A rug doctor is a carpet cleaning machine that you can rent at your local Home Depot or Walmart. 
Although you can use liquid laundry detergent in a rug doctor to clean carpets, it is unwise to do it every time, as this can ruin its interior. 
Typically, you can pour a gallon of hot water and add 1/4 to 1/2 cups of the rug doctor cleaner. Use 2.6 gallons of water for a large area and add 1/4 to 1/2 cup solution or vinegar per gallon. 
Can You Use Castile Soap to Clean Carpets?
Yes, you can use castile soap to create a carpet shampooer. You can mix 1/3 cup of castile soap with 2 teaspoons of washing soda and put some essential oils there. 
Afterward, store it in a glass jar for up to 6 months. Shake the contents well and scrub them into the carpet with a brush, then allow the solution to air dry before vacuuming it up.
The only problem with this solution is that there may be a white residue after using it, so many parents do not use it, including me.
However, other people swear it is the best thing ever, so use your best judgment and test it on areas you believe are safe.
Final Thoughts
Commercial carpet cleaners are great if you have a challenging project to tackle. However, being able to say you are creating nontoxic homemade recipes that do a good job is something you can be proud of.
The best part is that these DIY carpet cleaners are better for your overall health and well-being. It is something for you to be proud of. 
As a quick reminder, it is a great idea to test spot a small amount of any carpet cleaner you make to ensure it works and does not ruin your rugs.
Overall, we wish you the best of luck in your homemaking journey!