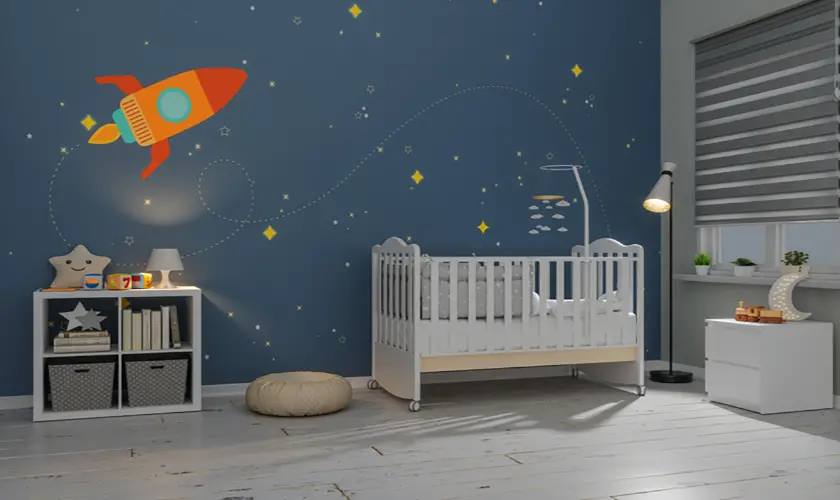 You just found out you are having a baby and are so thrilled! As you plan out the baby's nursery, you want to find the best and safest option before your little one arrives. 
In this case, you are looking for the best floor lamps for your baby's room. You might be asking yourself the very question, what is the best floor lamp for the baby's nursery?
We have great news for you because we have researched for you! Here are seven of the best nursery floor lamps for your little one's nursery:
LEPOWER wood tripod floor lamp
Brightech Montage Modern
PAZZO Floor Lamp with Shelves
HROOME Cool Tall Decorative Floor Lamp
ZSCOO Modern LED Floor Lamp
Brightech Logan Arc Floor Lamp
If you want to know the details of these nursery floor lamps, continue reading to find out more information!
What Are the Best Floor Lamps for a Baby Nursery?
1. LEPOWER Wood Tripod Floor Lamp
The LEPOWER wood tripod lamp is an excellent choice for your little one's room. It comes in a mid-century modern design, perfect for you and your infant to enjoy while putting them to sleep during the evening. 
The LEPOWER provides a lot of durability and sturdiness thanks to its tripod legs. Doing so ensures the lamp will not wobble and eventually tumble over, making it safe as your infant grows into a toddler. 
Plus, you are getting high-quality rubberwood material, making it aesthetically pleasing for the nursery room or living room. 
Although the light bulb is not included in the package, they have a couple of light bulb options that you can use to save energy:
LED bulb 10W-12W.
Energy-saving bulbs from 12W-20W.
Incandescent bulbs from 40W-60W (with 60W being the max usage.)
Note: It comes with an E26-sized screw base for technical people.
Lastly, you will be happy to know that the LEPOWER floor lamp has an on and off footswitch, making it highly convenient for you to turn it off and on. 
Imagine having your hands full with your baby, some books, diapers, or whatever else comes to mind; you will love this feature! 
2. Brightech Montage Modern
Next, we have the Brightech Montage Modern lamp, which the first thing you'll notice is how stylish and contemporary it is. This particular lamp is very sleek and fits almost every style of home you have, from mid-century to traditional home decor. 
You will be happy to know that these Brightech contemporary floor lamps are compatible with Amazon Alexa, Google Home, and Apple HomeKit to turn the light on or off. However, if you do not wish to use this option, you can quickly turn the lamp off and on with the footswitch.
If you have any of these devices, you will not have to worry about going over to the lamp and turning it off yourself. However, you'll need to purchase the smart outlet sold separately. 
For those who love reading to their little ones, the Brightech floor lamp will direct its light downwards, so you will not have to squint while reading to your little ones.
On top of the light facing downwards, the lamp comes with a 5-foot tall pole that can easily hang over your nursery crib, desk, couch, or other areas. The lamp also comes with a heavy base, so you will not worry about tipping over. 
This simple design lamp can easily last you 20 years, ensuring your money's worth. 
Plus, a warm light LED bulb is included, meaning you do not need to go out of your way to purchase more light bulbs. This particular bulb will last 20,000 hours, so you do not need to replace it shortly.
Lastly, you might want to know that this particular Brightech floor lamp comes with a 3-year product warranty, covering any mishaps of the product not working after the first three years of usage, making it the best choice to have all around.
3. PAZZO Floor Lamp with Shelves
If you love modern floor lamps, PAZZO is what you will want to go with. 
It has some storage space, but it contains two fast-charging ports (one USB & another Type C) and one power outlet station that charges three devices, like a phone, iPad, or Bluetooth speaker. 
You'll find that the PAZZO contains real solid wood, making it very durable and stable. 
The frame can hold up to 20 pounds of daily necessities, so you can find small boxes to keep toys or other baby books on it for easy storage access. Be creative! You can get multiple PAZZO lamps in your household, like the living room or home office.
Another cool feature is the lighting. Suppose you want a different color temperature depending on the day or mood you wish to be in. 
In that case, you can choose which brightness level you want. The LED light bulb has these three color temperatures:
3000 Kelvin
4000 Kelvin
5000 Kelvin
4. HROOME Cool Tall Decorative Floor Lamp
For those who like different floor lamps than your average modern lamps, then why not go with the HROOME Cool Tall Decorative floor lamp? It adds a unique and exciting feature to your baby's nursery. 
It comes with an adjustable height, making it possible to adjust the bodily structure any way you please. However, the floor lamp goes above 5-feet tall and reaches over to whatever you need, such as the desk, couch, crib, window corner, etc. 
On top of that, the weight of this bright light is only 9.9 pounds, which makes it extremely easy to move around. 
You can easily tap the lamp off and on, and it comes with an LED bulb, making it a warm white feeling. The electric light socket is an E26 for those needing more detail. 
The HROOME floor lamp contains colorful plywood body pieces that you'll need to put together in terms of its material. However, the wood material is made from sustainable sources.
Overall, the HROOME lamp is an excellent conversation starter, so if you want something that will brighten someone's day, you should get this masterpiece! 
5. ZSCOO Modern LED Floor Lamp
If you want the best floor lamp that will do good for your baby's eyes, then the ZSCOO modern LED floor lamp is the way! 
Although the ZSCOO has an ambient light of 6000 Kelvin, you can also bring that brightness down to a warm 3000 or 4000 Kelvin lighting, creating a different atmosphere in the entire room depending on what you wish to have.
Another super cool feature of this modern LED floor lamp is its two lights. If you wish to have a side reading light, you can do that easily. The minimal design makes it fit whatever style your household has as well. 
Suppose you want to place the floor lamp in the corner of your baby's bedroom, but you do not wish to go over there and turn it off. In that case, this is where the remote control comes in handy. 
However, if you do not wish to use the remote control, place it on the magnetic lamp and use the touch switch option. 
The ZSCOO lamp comes with a weighted bottom, keeping it from falling quickly. Doing so ensures your safety, your baby, and any animals. 
Lastly, it is always good to know that a lamp has a memory function. If you only use the light when you put your little one to bed, you can quickly turn the lamp on to the same setting. 
6. Brightech Logan Arc Floor Lamp
The last floor lamp we'll delve into today is the Brightech Logan arc floor lamp, which brings both style and a minimalistic look providing an excellent light source for your baby's room. 
The Brightech lamp contains an illuminating linen shade, fitting wherever you want. The marble base creates a gorgeous bottom that is heavy and sturdy. 
The bottom also has felt underneath, causing it to where children and animals cannot simply tip it over. You might be getting a lamp with some white features, making it gorgeous to have all-around your home. 
For those who have innovative home features, the Brightech Logan has Alexa and Google Home Assistant compatibilities, making it a perfect match if you are too tired to walk over to the 
 The Brightech Logan floor lamp is also compatible with Alexa and Google Home Assistant, leaving it a breeze to turn on and off your light. 
The floor lamp has compatibility with other intelligent outlets, like the Apple HomeKit. However, you'll need to purchase a smart outlet sold separately.
Although this lamp comes with a 3-year protective warranty, you can quickly go 20 years. The energy you'll be saving is the best part as well! The integrated light bulb lasts up to 20,000 hours, making it warm and pleasant to be in the nursery room. 
What to Consider Beforehand
We will consider the best floor lamps for your baby's nursery now that we have gone over them before purchasing them. 
1. Safety
When it comes to your child's safety, you will do an immense amount of research beforehand. One thing to consider is to go wired or wireless. Do you want a lamp that comes with a power cord or a cordless floor lamp? 
Another thing to consider is if the lamp can easily tip over. If you went with a cheap light, you might risk tipping over. However, make sure the bottom is not easily movable for your baby's safety.
2. Built & Style
If you were to purchase a lamp that looks like it belongs in the 60s but is not your style, you would not be too happy. However, for those who want something sleek and modern, then make sure to look for that option. 
Do you want a table lamp, ceiling fixture, wooden floor lamp, or something different? What about a lamp with built-in night lights? 
Make sure you answer all questions before getting the one you want. 
3. Adjustable
Having a floor lamp that only has one brightness may suit some people, but if you wish to rock your baby to sleep, you need to find something with adjustable lights.
For example, if you need to put the light on during the day, having an ambient light will do you much justice, especially if there is hardly any natural light. 
However, when putting your little one to sleep, you will want to have a dimmer switch is the best option. 
4. Power Cord
We mentioned briefly above whether you even want a power cord or for it to be wireless, but we did not speak of how long the power cord is. If it is only 3 feet long, it does not give you much space to move the light around. 
In that case, you'll want something that allows you to move a bit. Plus, a small cord could easily be a trip hazard. 
5. Life Span
The life span is essential. If you purchase a lamp that only lasts for a year but still want other children, this will only cost you more money in the long haul. 
However, if you choose a light that will last 20 years or more, you're looking to save money. 
It is a bonus if the floor lamp comes with a LED light that lasts for years! 
6. Size of the Lamp
Suppose your little one is a couple of years old and getting into everything. You would want to find a much larger lamp, so they do not touch the dangerous parts like the light bulbs while they are on. 
If you have small spaces, you might only consider investing in a ceiling light that meets all your needs.
Frequently Asked Questions
1. Do You Need a Lamp in the Nursery?
Although it is not 100% necessary to use a floor lamp in the nursery, it is better for your eyes and comfort. Plus, kids and adults use lights to study, read, write, get ready for bed, etc.
So, to answer the question above, having a lamp in the room will benefit you and your baby more than not having one. 
2. What Color Promotes Sleep for Babies?
If you wish to provide better sleep for your babies, set the light on the white and yellow setting. Both colors are eye-soothing tones that help your children fall asleep naturally. 
3. When Should I Put a Nightlight in My Baby's Room?
You can put a nightlight in your infant's room as soon as they are born. However, once they start getting older and messing around with things, consider strategically placing them around in the room or purchasing a nightlight that your child cannot reach.
Conclusion
Doing research before finding a suitable floor lamp is always a wise decision beforehand, so we hope you have found the perfect one for you and your baby to enjoy for years to come! That said, congratulations on finding out you have a little bundle of joy!