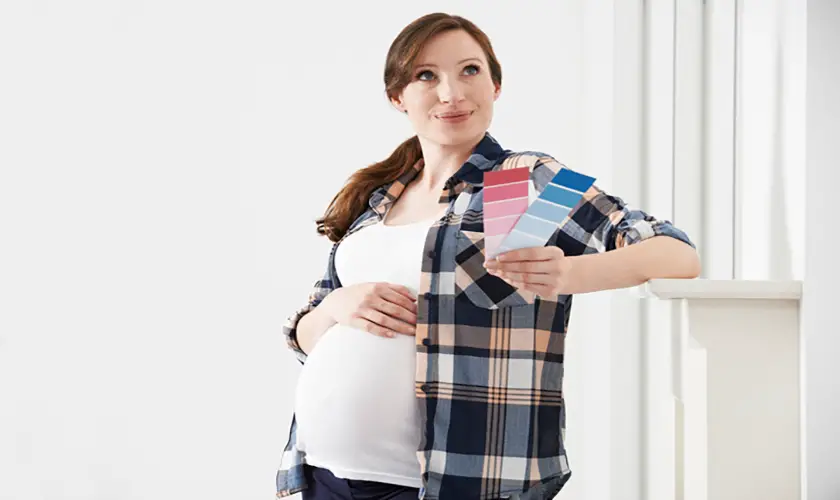 Painting a room can be extremely exciting, especially if it is for within your baby's nursery! You get to pick and choose light and airy paint colors that you and your loved ones within the home will enjoy for years to come. 
Having new paint within your home is always a fun experience, especially if you recently moved into a house with white walls. 
However, when it comes to your baby's health, you will always take precautionary measures over everything within your home, ranging from what soap you use to clean their bottles to what paints you will use in their room. 
Seeing as how that is the case, what are the best paints for your baby's room?
Ecos Paints
Sherwin Williams Paints
Milk Paint
Lullaby Paints
Benjamin Moore Eco Spec Paint
Green Planet Paints
Real Milk Paint
Although there is a list above us, there are some questions you need to ask yourself before going over these types of paints. 
This article dives into some essential topics, such as what you should look for in safe color, what VOCs (violate organic compounds) are, and why they are dangerous. 
Afterward, we will dive into the best paints for your baby's room. Continue reading for more!
What Should You Look for in Safe Paint?
Your infant is susceptible to anything they come in contact with. However, you might not consider that their lungs are still developing, making it to where we need to ensure they are breathing well at all times. 
When choosing safe paint for your baby, you want to find low VOC paints or zero-VOC paint. 
If you want to choose the safest option for your baby, get water-based paint, which should not contain any volatile organic compounds. 
When labeled zero-VOC emission, paints have less than 5 grams per liter of organic compounds. Low VOC paints contain 50 grams per liter of organic compounds.
You might want to consider looking for a declare label on the paint you choose, which ensures where the product comes from, what kind of materials are in it, and where it goes after its lifespan is up.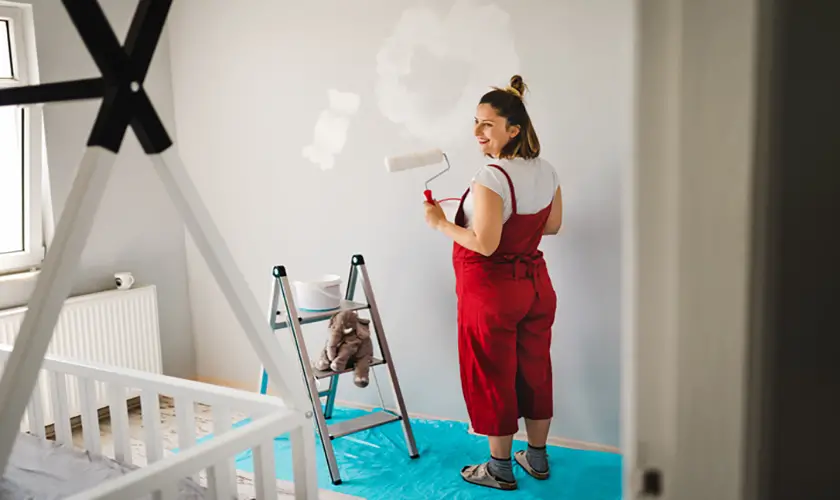 What are VOCs?
What are VOCs (violate organic compounds), anyways? They are toxic fumes emitted into the air from certain solids and liquids. They come in numerous objects, like furniture, cosmetics, disinfectants, paints, etc. 
VOCs are also artificial chemicals containing high vapor pressure and low solubility, affecting indoor air quality. 
What Health Effects Come from VOCs?
VOCs have quite a few health issues, so it is crucial to ensure you get the safest paint possible for your little one. 
According to the EPA (Environmental Protection Agency), many adverse health effects come from VOCs. Here is a list of some of them you would be wise to remember. 
Nose, eye, and throat irritation.
Liver and kidney damage.
Damage to your central nervous system.
Nausea, headaches, or loss of coordination.
It May cause cancer in animals and humans.
What Are the Benefits of Choosing a Safe Paint?
When choosing a safe color to paint the nursery, one should know what the benefits are. 
The first thing to know is that you do not have to choose just the nursery to paint the interior of your home. You can use all of the paints we mention below for your entire house if that is what you wish to do. 
So, what kind of health benefits does non-toxic paint allow you to have?
1. Your Health Gets Better
As we briefly discussed, your health is at stake when using VOCs. It can significantly impact your life and healh if you are allergic or chemical-sensitive. 
However, using natural or little to no VOC paint ensures you and your infant's health stays more intact. 
2. It is a Water-based Paint
Have you ever painted a room but accidentally spilled some on the floor, your clothes, baseboard, or even your skin? 
As you already know, 100% acrylic paint is tough to get off, and it sometimes stays on for weeks at a time. 
However, with water-based paint, you do not have that issue. You can easily clean it up with soap and water.
3. It is Better for the Environment
Objects containing volatile organic compounds are tough to recycle. Seeing as how that is the case, using a better painting option ensures you are reducing landfills, ozone-depleting contaminants, and groundwater.
4. There Are Little to No Hazardous Fumes
You will not experience any off-gassing as you paint the room. Plus, no odor is there once the paint is cured, making it a better environment for you to live in. 
5. The Paint is Very Effective
If you have previous flaws in your old paint, you can easily cover them with natural colors, creating timeless beauty.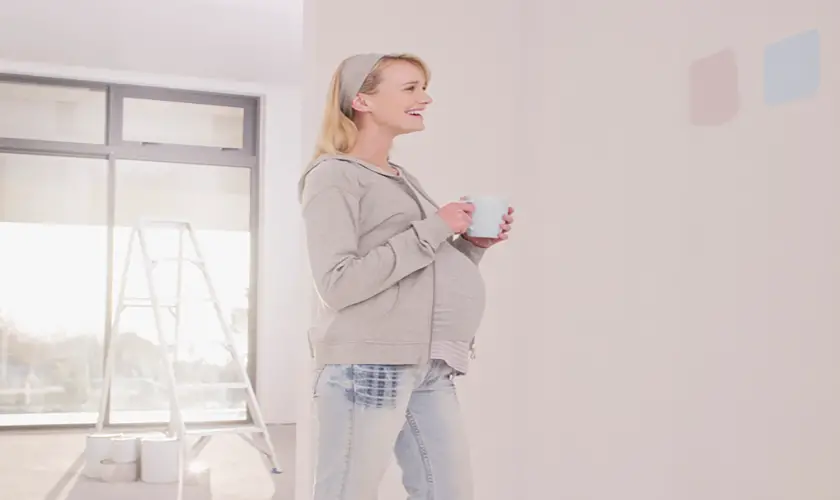 What is the Best Paint for Your Baby's Room?
Now, let us get down to baby safe paint for your little one and yourself to enjoy for years to come!
1. Ecos Paints
Ecos paints are one of a kind because they are incredibly open to sharing what ingredients are in the colors themselves. 
Unlike other conventional paints, Ecos covers up to 560 square feet per gallon, which is 1.5x more than your average bucket, so you're getting a lot more coverage with it from the beginning.
This painting company is non-toxic, water-based, and contains zero VOCs and many good interior paint options, including chalk paint. 
Not only that, but Ecos paint is also latex-free and does not add any toxic solvents to its different colors, ensuring no paint fumes get released into the atmosphere of your home. 
On top of that, you will be happy to know that Ecos paint is handcrafted in their facility in South Carolina and sold worldwide, so when you purchase from them, you are supporting families and jobs in the USA. 
2. Sherwin Williams Paints
Most everybody knows about Sherwin Williams. Many homeowners have talked about them for years, so it would make sense why this painting company is on here! 
Sherwin Williams offers four brands that are considered green and natural paints. These are as follows:
Harmony®
Duration Home®
ProgreenTM 200
Builders Solution® 
Although they have acrylic paint available, the company wanted to offer water-based paints for those who want a better alternative without sacrificing the product's color.
Their water-based paints meet or exceed the US Green Building Council's LEED certification and the Green Seal criteria (GS-11). 
There are four good options to choose from, so you have peace of mind regarding your baby's health. There are many favorite colors to choose from, so take a lot of time to find the best paint color for your little one's room.
3. Milk Paint
Milk paint is an excellent non-toxic paint that looks good in everything you do, from DIY projects to painting the baby crib; it can get the job done!
Established in 1974, Milk Paint strives to give off the Colonial American look while having natural ingredients and remaining biodegradable. 
This specific company contains no VOCs, HAPs, or EPA-exempt solvents, ensuring fewer chemicals enter your home.
Many people use this specific paint for their DIY projects, such as for furniture paint or children's toys, which do not come off quickly. 
One person even mentioned they accidentally spilled some in their fish tank after painting their door. The next day, the fish were flourishing! You would never hear that anywhere else, making it a great option. 
One of the most incredible things about Milk Paint is the availability to order online. 
Many painting companies do not offer this, so bringing the paint online to your house within a few business days is a luxury! You can choose sizes between the following:
4. Lullaby Paints
Picking the right paint for your little one is challenging. However, Ecos Paints offers a baby-safe paints line called Lullaby paints. 
There are multiple different nursery colors in this particular brand. 
These paints range from gender-neutral nursery colors to gender-specific, so you can ensure you are getting the right paint for your little one to enjoy through their toddler years!
The colors you will choose will create a calming effect for the room. 
If you are still unsure which color to choose, you can get eight free sample cards in the mail before making an executive decision. 
Each Lullaby color is nursery safe and non-toxic, so you are getting an excellent option if you choose them for your baby's nursery. 
5. Benjamin Moore Paint
With over 3,500 shades of colors to choose from, Benjamin Moore is one of the best paints you can invest in to ensure the safety of pregnant women or young children. 
This particular brand is thicker than other paints, ensuring the coverage of your walls and baby furniture, like your baby's crib, gets taken care of while not having to put a million coats on there. 
If you are wondering if the paint chips, you will be happy to hear that it does not chip or flake, which is something to look for in all colors for your walls. 
An expert at National Lumber Home Finishes puts it like this, "…if you want the best coverage, durability, and scrubbability, go with Benjamin Moore."
The greenest paint finish they have is their Eco Spec, which offers low-VOC levels, zero emissions, low odors, and numerous third-party environmental certifications. 
So, the Eco Spec would be a great way to design your nursery walls to ensure a better living and sleeping environment.
6. Green Planet Paints
When you first enter Green Planets' website, they quote that their type of paint is "so safe and natural that you can bathe in it!" which genuinely says something positive about their company. 
Green Planet is proud that they are non-toxic and eco-friendly, their performance is high, they use plant and mineral-based products and they improve air quality.
Green Planet paints come in five different paint finishes and contain over 350 mineral-based colors. They include many earthly neutrals that you and your household will enjoy and love! 
The finishes you'll see in this painting company are as follows:
Flat
Velvet
Eggshell
Satin
Semi-gloss
One gallon of their paint covers 350 to 400 square feet, and they recommend two coats of paint and a primer before the first coat application. Putting the primer on beforehand creates a smooth finish. 
7. Real Milk Paint
Our final paint we will review is the Real Milk Paint company. It is different than the first one mentioned above, but their colors create fabulous nursery designs and have multiple shades of colors to choose from! 
Although they have 56 unique colors, it will not get so overwhelming for those who want simplicity in what they choose. 
There is a color for everyone, so if you wish to paint the entire home with this company, you can gladly do so! 
You will also be happy to know that they are a great zero VOC paint, contains 100% organic ingredients, are non-toxic, are food contact safe, and can also be compostable and biodegradable. 
Suppose you want to paint the baby's crib and give it a rustic, matte finish. In that case, Real Milk Paint is easy to distress, making it great for any DIY project you have. 
On top of that, your baby's nursery will not deal with any toxic fumes in the air, making it kid and pet friendly. 
Real Milk Paint lasts up to two weeks in liquid form and comes to you in powdered paint. You can get these paints available in a sample, pint, quart, and gallon sizes.
Tips For Reducing VOCs Exposure in Your Home
It is pretty impossible these days to altogether avoid toxic chemicals within your home. However, that does not mean you cannot ensure you use fewer chemicals within your household. 
Here are some tips that might help you out:
Increase ventilation within your home when using products emitting VOCs.
Read the labels before using the product. 
Keep children and animals away from the product.
Provide plenty of fresh air by opening up some windows.
Throw away any unused containers and purchase what you will use.
Conclusion
In recent years, many parents have opted to choose a natural paint brand instead of commercial paint for everything. This includes household paints for their new baby. 
The good news is that there are many solutions to this, including all paints we have mentioned above. 
We hope you find the best nursery paint colors and make the room look spectacular and beautiful!